---
---
---
THE TARSACCI MDT 8000
Made in the USA
Waterproof, Accurate Target ID, 4 Avail Frequencies
Extreme Depth, Black Sand & Salinity Balance Modes
Read a Customer review here.
Powered by innovative Mixed Domain Technology, the Tarsacci MDT 8000 is the perfect machine for beach, relic, and coin hunters. By employing Tarsacci's powerful salinity balance features, the MDT 8000 will have no issue detecting in salt beaches or highly mineralized ground. The lightweight and durable all carbon fiber body coupled with a highly energy efficient design ensures you can detect comfortably for hours on end.
The MDT 8000 is the perfect all around detector for any detecting enthusiast. The MDT 8000 works quietly in difficult terrain where others struggle; obtaining great depth and maintaining target identification. This detector does not compromise on hunting capabilities of tiny low-conductive targets; silver, platinum, or gold jewelry; coins and artifacts.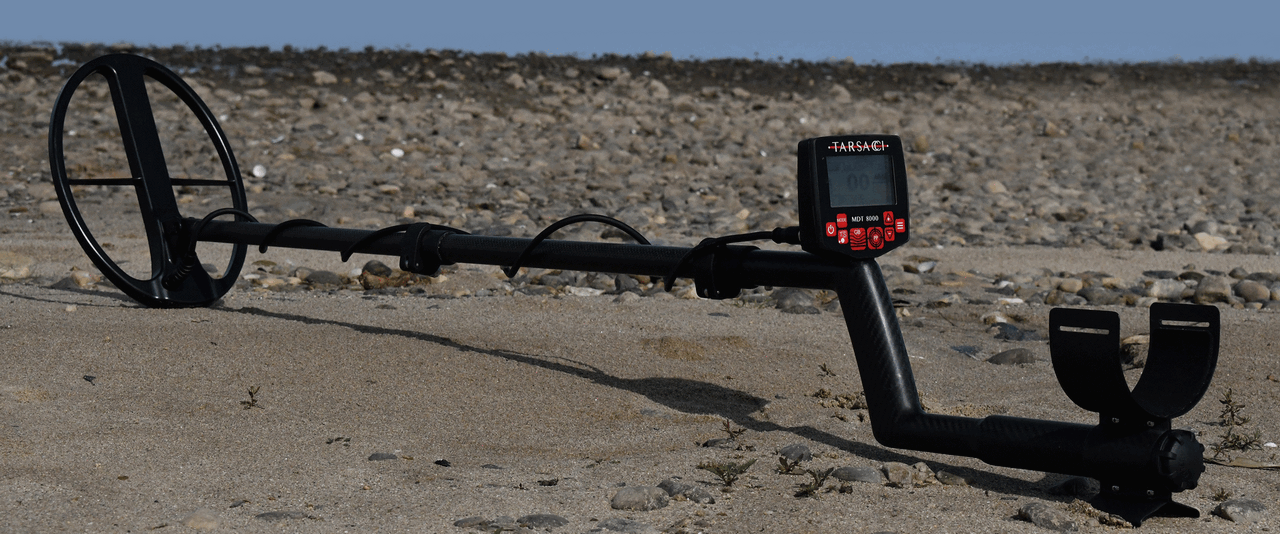 New Technology

Tarsacci invented MDT: Mixed Domain Technology to push the limits of metal detecting. MDT opens up accurate identification of deeper targets in challenging situations like wet salt with black sand beaches, mineralized ground, and hot rocks.

Black Sand Mode

Turn this feature on to improve performance in specific mineralized grounds like black sand beaches. You may also find the black sand mode beneficial in other conditions.

Light & Durable

Weighing in at a little under 3 pounds(1.63Kg), including the battery, the full carbon fiber rod construction allows the MDT 8000 to be both lightweight and extremely durable. You will not have to worry about accidental damage or bent rods.

Waterproof

Fear no beach with MDT 8000's water proof meeting IP68 rating.
(Up to 1.5 meters for up to 30 minutes)

Fast Ground Balancing

Ground Balance in less than 3 seconds; just press, hold, lift, and release and your on your way with a ground balanced MDT 8000.

Salinity Balance

At the heart of MDT is the unique Salinity Balance feature that enables detecting targets in noisy environments like wet sand beaches, mineralized ground, and hot rocks.

Accurate Target ID

Accurate target ID in the MDT 8000 means that you will be able to work rough ground in tough conditions.

Selectable Frequencies

With four selectable single frequencies: 6.4kHz, 9kHz, 12kHz, and 18kHz , you can choose the frequency for your needs.

Unique Target Audio

Easily and reliably locate targets with unique target audio profiles based on three modes of operation: All-Metal(AM), Discrimination(Disc), and Mixed Mode(Mix).
Technical Specifications
Technology : Mixed Domain (Patent Pending)
Operating Frequency : 6.4kHz/9kHz/12kHz/18kHz
Ground Balance : Manual / Fast Auto
Tracking : Yes
Black Sand Mode : Yes
Salt Mode : Yes
Salinity Balance : Manual
Salinity Level : 0 to 50
Target Identification : Ferrous -30 to 0 / Non-ferrous 1 to 30
Sensitivity : 1 to 9
Threshold Level : -9 to 0
Target Volume : 1 to 15
Target Tones : 4
Tone Break : Ferrous and Non-ferrous with adjustable notch filter
Audio Modes : All Metal / Discrimination / Mix
Audio Output : Speaker / Headphones
Display : 128X64 Graphic LCD
LCD Backlight : Yes
Battery : 26650 Rechargeable Lithium-ion battery (3.7V @ 5000mAh)
Battery Life : Up to 18h@6.4kHz/24h@9kHz/30h@12kHz/36h@18kHz
Operating Temperature :-10C to +50C (+14F to +122F)
Search Coil : Tarsacci MDT 11X9 DD
Shaft : Telescopic 3K carbon fiber with molded 3K carbon fiber "S" rod and armrest
Length : 965cm to 1346cm (38" to 53")
Weight : 1280g (2.82lb) including the battery
Waterproof : IP68 (Up to 1.5 meters for up to 30 minutes).
Headphones (Included) : Wired 3.5mm non-waterproof